Autonomous vehicles are poised to drive the next wave of growth with technology disruptions catalysing various levels of vehicle autonomy. With significant market growth expected in the forthcoming years, many analysts are anticipating that the potential gain will cross into the multi-trillion-dollar mark within the next decade. As the AV landscape strives towards finding new applications to attain greater levels of safety, efficiency and autonomy, this growth is further fuelled by increasing collaborations from the private and public sectors which have led to a myriad of opportunities opening up for industries, cities and commuters.
As autonomous vehicle (AV) trials and prototypes get in gear worldwide, the race is on to get self-driving cars onto the roads. In some countries, AVs are seen plying the roads, whether on limited public roads or on trials. We hope to see AVs becoming a reality, revolutionising urban mobility and improving the way we travel, work and live.
Market Potential of AVs
The numbers attest to the potential of AVs. According to a report by Research and Markets, the global AV market was valued at US$54.21 billion in 2019 and is estimated to garner US$2.04 trillion by 20301. This includes AV applications such as autonomous car, robo-taxi, ride-hail, ride share, self-driving truck and self-driving bus.
The market is being driven by strong interest from both the private and public sectors. Supportive governments and private enterprises as well as research institutions are powering autonomous developments around the world, with many public-private tie-ups fuelling AV ventures in many cities.
More AVs are also being spotted in landmark deployments and trials in the United States, Europe and Asia, with Singapore leading the way in trials and pilots for autonomous shuttles.
AV Landscape Driven by Level of Autonomy
Over the past five years, the world has made much progress in the AV landscape at various levels of autonomy. The goal is to produce fully autonomous cars that can navigate safely without the need for human interventions.
Adapted from the six levels of driving automation as defined by the Society of Automotive Engineers (SAE) International2:
SAE Level 0 (no automation)
SAE Level 1 (driver assistance)
SAE Level 2 (partial assistance)
SAE Level 3 (conditional automation)
SAE Level 4 (high automation)
SAE Level 5 (full automation)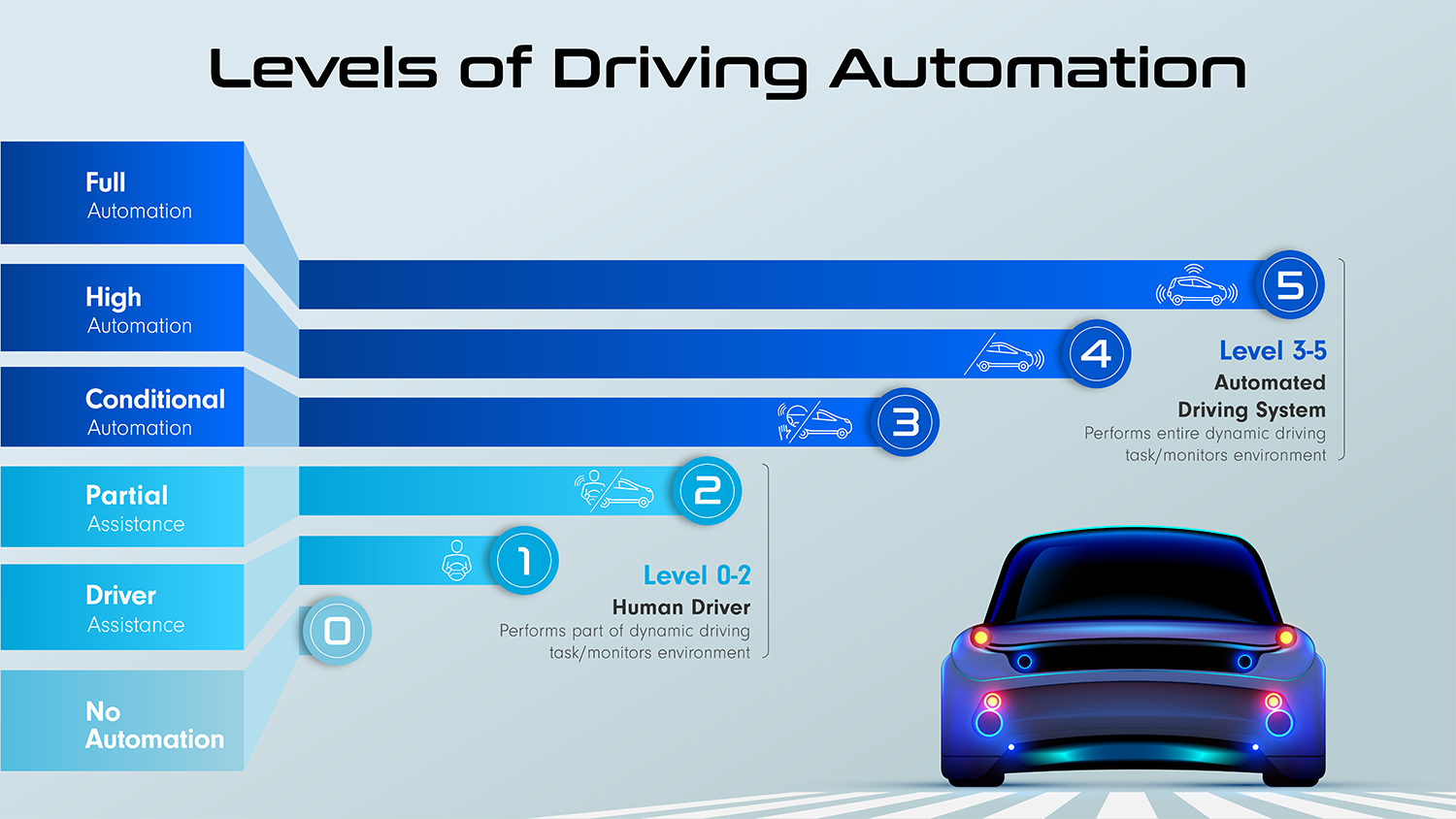 Source: Adapted from SAE International – J3016 Levels of Driving Automation
Currently, most cars on the road are at Level 1. Being the lowest level of automation, Level 1 offers a single aspect of automation for driver assistance such as steering, accelerating or braking controls. Level 2 AVs can control both steering and speed, but a driver is behind the wheel and can take control and intervene during an emergency.
At Level 3, vehicles are able to detect the environment around them and make informed decisions such as overtaking slower moving vehicles, but the driver must remain alert and take control if the system is unable to carry out the task.
Level 4 vehicles can intervene with their own devices if things go wrong. These cars do not require human intervention in most circumstances, although a human has the option to override manually. These vehicles can operate in self-driving mode within a limited area, known as geofencing.
Level 5 vehicles do not require human attention at all, and are able to go anywhere and journey on public roads like an experienced human driver. It does not provide typical driving controls and is free of geofencing.
Although AVs are undergoing testing at various stages in cities around the world, we have yet to see Level 5 vehicles available to the public on a larger scale as part of a city's urban transportation network. At the moment, the most advanced AVs are operating only at Level 4 and even then, only in selected locations and pre-defined weather conditions.
Opportunities – Application, Industry, City and Commuter
AVs pave the way for future mobility, open doors for new applications, industry collaborations and city transformations, and change the way we commute. Market opportunities are aplenty.
For applications – Just like Mobility-as-a-service (MaaS) platforms such as Grab and other ridesharing services which have encouraged the shift from private vehicle ownership to more sustainable transport options, shared autonomous vehicles can also adopt a similar model to enhance the travel experiences of commuters and push for a sustainable car-lite society.
While autonomous ride-sharing cars and shuttle buses can efficiently ferry people around, be it first/last mile journeys or on-demand services, AVs can also be deployed to benefit the logistics sector. This includes deploying autonomous trucking and platooning to deliver ground shipments through long-haul and cross-country deliveries.
For industries – To accelerate AV development and develop use cases to benefit cities, industry collaborations in the form of partnerships, consortiums and strategic alliances are essential. They look into different aspects such as technologies, infrastructure, cybersecurity, testing and evaluations, operations, regulations and safety. These collaborations can comprise municipalities, automotive manufacturers, technology companies, telecommunication companies, start-ups and companies from diverse industries.
For cities – To realise the full potential of AVs, cities will need to be smarter with an IoT-enabled infrastructure to support the concept of connected vehicles. This will provide self-driving vehicles with better information to enhance their environmental awareness, resulting in safer, more reliable and efficient journeys on the road. Regulations and legal frameworks will also be crucial to support safe city-wide AV deployments.
For commuters – As AVs are poised to lead the next chapter of urban mobility transformation, people can potentially enjoy more seamless journeys with lower accident rates and smoother rides. AVs will also free up time spent on driving and offer more flexibility for daily activities, allowing people to focus on things that matter and improving their quality of life.
The future is exciting as AVs are set to make a positive impact on cities. With each passing day, we are getting closer to realising the dream of experiencing fully autonomous vehicles plying the streets.
Learn more about ST Engineering Autonomous Transport Solutions